The Sixth Estate
Death From Above 1979 and Other Assorted Miscellanea
Enjoy the honey-heavy dew of slumber:
Thou hast no figures nor no fantasies
Which busy care draws in the brains of men;
Therefore thou sleep'st so sound.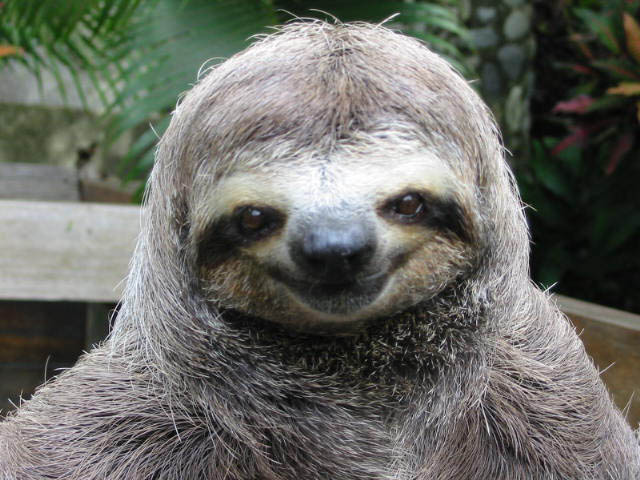 Hey Ladies!
Sloths : Proof that God does have a sense of humour.
Saw a hell of a rock show last night.
Death From Above 1979

a Toronto band on the rise, played to a soldout house at the Horseshoe Tavern. If you haven't heard their stuff, go out there and find their album. They put on a hell of a show, so if you get the opportunity to see them live, don't pass it up. Quality shite.
Here are a few pics from last night: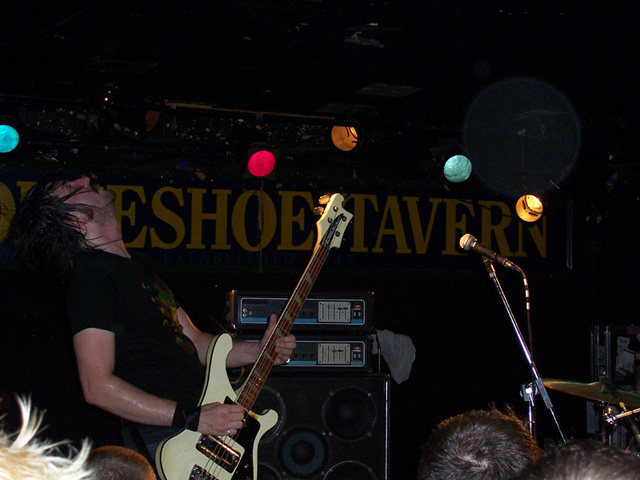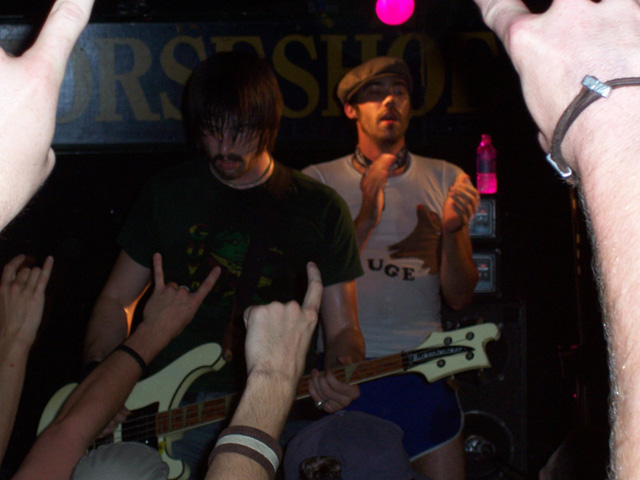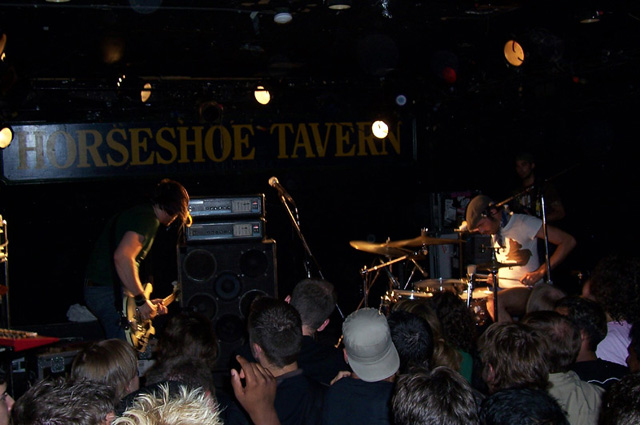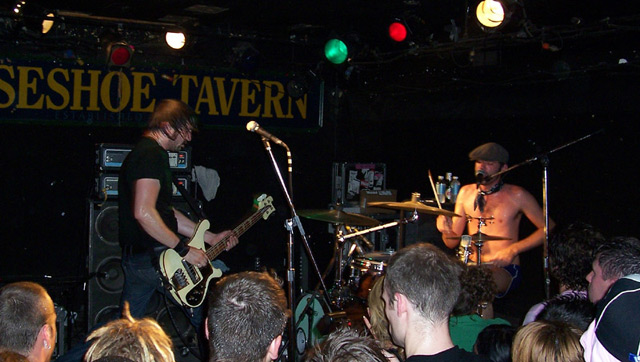 Movie Trailer Round-up:
Joss Whedon creator or the reprehensible Buffy and Angel tv shows, actually made a good show with the short lived Firefly tv series. The show was cancelled, but they made a movie of it. And here's the
Serenity trailer
.
The Wachowski Brothers are at it again. V For Vendetta stars Natalie Portman (They shaved her head!) and Hugo Weaving. As far as I know it's some kind of modern day Robin Hood story or something... Looks unique.
V for Vendetta trailer
.
Steve Carell stars in The 40 Year Old Virgin. From the makers of Anchorman, this is sure to be the comedy to see this summer.
The 40 Year Old Virgin trailer
.
And last, but surely not least a trailer for Tom Yum Goong. The latest offering from Thai martial arts phenom Tony Jaa. If you didn't see Ong Bak... well go and see it. This movie looks insane.
Tom Yum Goong trailer
. I really hope they play this at the Toronto Film Festival this year.
And that's my queue to exit.
- Will
0 comments
Come Back Clint!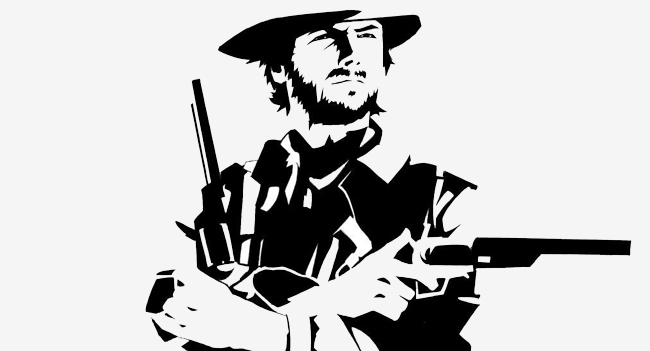 "Are you gonna pull those pistols or whistle Dixie?" - Josey Wales
I was by no means raised watching Clint Eastwood movies, but I certainly saw my fair share of them growing up. The first of his films I saw was
The Eiger Sanction
, Clint plays a part-time assassin/university professor, pretty good movie. Later I graduated to Sergio Leone's quintessential spaghetti western,
The Good, The Bad and The Ugly
and was suitably impressed as any 14 year old would be. Shortly thereafter I caught part of
Dirty Harry
, with a tagline like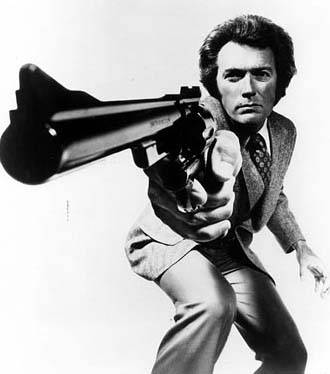 "
You don't assign him to murder cases, You just turn him loose!
",
How could you go wrong? Good old Clint was the biggest badass I'd ever seen in movies, Every character more hardcore and cool than the one that preceded it,
For me,
Unforgiven
solidified my impression that Clint Eastwood kicked ass, but then something happened, I became aware of a little movie called
The Bridges of Madison County.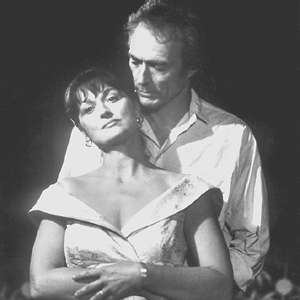 What happened Clint?!
Now I've never seen the film myself, but the movie's reputation as a chick flick precedes it. Clint wasn't shooting anyone... Well not with a gun at least. He played a photographer who falls in love with a house wife played by Meryl Streep. WTF!? Eastwood goes a whole 2 hours without shooting, punching or chasing anyone! Something was seriously wrong here.
Maybe he was just trying play something different for a change, but lets be honest Clint, she's a good actress but you can do better than Meryl Streep.
It seems that the older Clint gets the less badass his characters are. Clint now usually plays retired badasses, washed up badasses, or over-the-hill badasses... Who come out of retirement for one more big show!
Take a look at the roles he's played the last 15 years.
Unforgiven - Retired Old West gunslinger
In the Line of Fire - Veteran Secret Service Agent
A Perfect World - Grizzled Veteran U.S. Marshall
Absolute Power - Retired Professional Thief
True Crime - Over-the-hill Journalist
Space Cowboys - Retired/Washed-Out Astronaut
Blood Work - Retired FBI Profiler
Million Dollar Baby - Washed up Boxing Trainer
All these characters he's played have two things in common: They're all retired or on the verge of retiring and end up returning to whatever their respective profession was for one last shot.
He's still a badass in these movies... Just an old one... Who can't do much in the way of ass kicking, shooting, blowing shit up. But he still acts like he could kick your ass, and that's what counts.
Yes a kinder, gentler Clint is on the way. A career of being type cast as a badass has lead to a career of being type cast (By himself) as retired badass. He's going to be making another Bridges of Madison County-esque movie soon... I can feel it. I am convinced that Clint's final movie will just be two hours of him bawling into his fists wishing for the glory days, regretting the fact that he's now too old to even lift the .44 magnum; the most powerful handgun in the world that could blow your head clean off. And that my friends will truly be a sad day.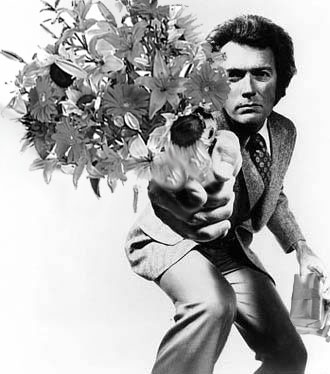 The most powerful bouquet of flowers in the world that couldn't blow your head clean off... But they smell nice.
But never fear, video games to the rescue! 'Dirty' Harry Callahan of the much vaunted Dirty Harry movies will be returning in video game form some time next year, with none other than Mr. Eastwood reprising his role. Once more a vintage Clint Eastwood will be cleaning up the streets of San Francisco, should be good.
If you need an education in Eastwood just check out any of the movies I mentioned, but avoid Bridges of Madison County unless you are a middle-aged housewife... If that's the case, go nuts.
Bring back Old School Eastwood! ... Somehow.
- Will
0 comments
I'm Back!
Give sorrow words; the grief that does not speak,
Whispers the o'er-fraught heart and bids it break.
Well I finally got around to it, I'm updating el blogo. Only after about 30 people told me I really needed to update my blog, it has been too long.
I've literally started writing this over a dozen times in the last month and a half, but as per usual, some occasion did inform against me. So what's new in the world if Will you say? Quite a bit.
As you may or may not be aware, I now rule the world with an iron fist. All mankind now bows before me in penitence, and those who oppose me will be broken asunder. But seriously, all world domination talk aside it's been an eventful summer thus far.
The Scottish Play, AKA Macbeth went very well. We had a great turnout for every performance, and I got a lot of good feedback from people. Looking forward to doing another production with the company, provided of course that it's not a musical *Shudder*. Anyways the only way to illustrate just how great the play was will be with a collage of sorts... a
photo montage
of Macbeth.
I also happen to have a job. My exciting new occupation, which is only a summer gig is some of the most exciting work available in Toronto right now. I'm an Office Services Clerk at a real estate management company. Delivering mail and faxes, keeping the copiers/faxes/printers working, managing records, keeping kitchens stocked with coffee and beverages... Yes truly rocket science. The pay is good and the office well air-conditioned, so no complaints here. The latter is certainly a benefit on scorchers like today, a cool 35 degrees celsius.
Remember how I used constantly complain about the state of my computer? About how it was sub-par in nearly everyway possible? Well not anymore! My new job provided me with the means of upgrading the ol' clunker into a true beast of a machine.
The Beast:

Intel Pentium 4 3.2 ghz
2 Gigabytes of RAM
and the far too expensive 256 mb ATI Radeon x850XT video card.
I'm now gaming it up a notch. Catching up on all the great games I've missed out on the past few years, and playing a few new ones. Battlefield 2 = Funlarity.
Tomorrow I head to Montreal with a few friends for the
Fantasia Film Festival
, I'll be seeing lots of crazy genre movies and beering it up a notch with some of the forsaken of
fipilele
. Should be more than a little entertaining.
I'd post my Batman Begins review, but personally I think it's the worst review I've ever written. Lack of sleep + Lunchtime rush review = Poorly written review. Good movie though.
Look for reviews from the Fantasia Film Fest next week.
In other news : Transformers : The Movie coming July 4th 2007! More at
TwitchFilm
. Michael Bay and Steven Spielberg? Can't wait.
Now I will watch this terrible movie with Meat Loaf and that chick from Sex and the City while I pack.
- Will
0 comments