Boycott Nickelback and The Way To Parish Church
O sleep, O gentle sleep,
Nature's soft nurse, how have I frighted thee,
That thou no more wilt weigh my eyelids down
And steep my senses in forgetfulness?
It's 7:45 am. I'm nestled comfortably in the warmth that is my bed after a good nights sleep. On comes my clock radio, Dean Blundell and his morning crew are laughing about something, and I have yet wake up completely.
"This is Nickelback, Photograph on 102.1 The Edge.", announces Dean... My own private hell begins.
I dive out from under the covers to slam the clock radio off, but not before Chad Kroeger is able to ask me to "Look at this photograph!" I shudder with rage and start my day.
I love
Edge 102
. As radio stations go it's probably my favourite (Sorry Classical 96.) However, for most of the school year I have woken up to that god damned Nickelback song 9 times out of 10. I don't want to look at that photograph, I don't want to hear Chad Kroeger and company moan their way through yet another boring Ass Rock song. No matter what time I set my alarm for it seems this song is destined to haunt my waking hours.
I submit
this link
as an example of the suckiness that is Nickelback. Two songs on one album, that when played on top of one another sound identical.
This Thursday or Friday morning I am going down to Edge 102 with a sign and I'm going to protest the playing of this song. The sign will hopefully look like this:
STOP CHAD KROEGER AND NICKELBACK!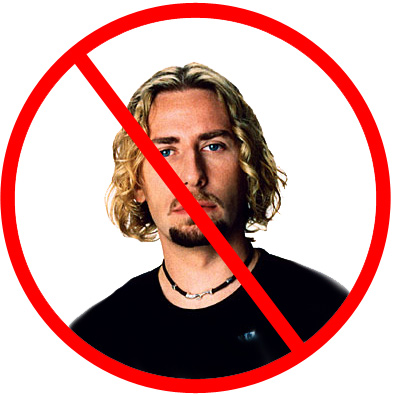 BOYCOTT NICKELBACK.
DOWN WITH ASS ROCK!
SUPPORT GOOD CANADIAN MUSIC!
Now I don't know what this will achieve, probably little. But I would rather wake up to quality Canadian artists like Broken Social Scene, K-OS, The Arcade Fire, Death From Above 1979 or Sloan any day of the week. Is that so much to ask?
I know I am not alone in this.
If you feel the same way about Nickelback please support me in my cause.
But onto other business...
Revenge of the Sith Ain't Bad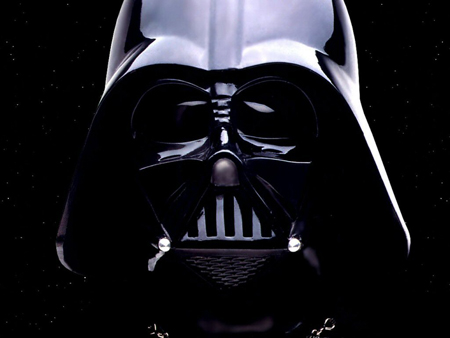 Journalist/Filmmaker
Matt Zoller Seitz
outlines the reasons why Star Wars Episode III : Revenge of the Sith is better than people give it credit for and doesn't get its due.
I was heartened to learn that About.com movie critic Jurgen Fauth put "Revenge of the Sith" on his Top 10 list, in the number one spot, no less. He even encouraged people to revisit his original review -- the most thoughtful, non-condescending piece of writing done on this movie by any critic anywhere. What stones. In the increasingly hermetic world of American film criticism, there are certain things we all know for sure, and one of them is that saying George Lucas' movies have heft is a surefire way to get your Cool Film Critic credentials revoked. Fauth had better go down into a bunker and not come out until at least March. (The movie made my own Top 20; it probably would have made the Top 10 if Lucas had given Padme something to do, and if I'd been able to defend the dialogue some other way besides saying, "If it was in Japanese with English subtitles, you wouldn't be making fun of it.")
The man raises some very good points.
Read the entire article at
The House Next Door
.
Need An Excuse To Get Drunk Tonight?

For my American friends. As if the actual State of the Union isn't reason enough to start drinking, you now have a fun excuse! Tonight, as President George W. Bush gives his State of the Union Address you and all your friends can play a drinking game!
Every time the President says "Iraq" or "Iran" you take a shot. Every time he says "Nuclear" or some crazy variation of it : take a shot! And so on and so forth.
So drink up! It's going to be a long night. Who cares about work or school tomorrow, there's nothing better than a hangover on somebody else's time!
State of the Union Drinking Game!
Law and Order : Special Valentine Unit
Looking for a Valentine's Day card with that little extra something?
Well look no further.
Brandonbird.com
has all your Law and Order : SVU Valentine's day card related items covered!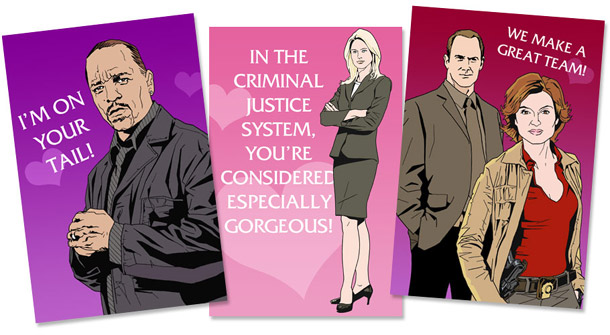 Any Valentine's Day card with
Richard "The Belz" Belzer
on it is okay in my books.
More Special Valentine Unit cards
here
.
Best.Animated.GIF.EVER!!!
Do you like the idea of Captain Picard shooting someone with a Tommy Gun?
Do you like the idea of that something being everyone's favourite fat kid: Chunk from
The Goonies
?
Do you like the idea of Chunk from The Goonies being bullet-proof?
Well wait no longer, because those ideas are now a reality!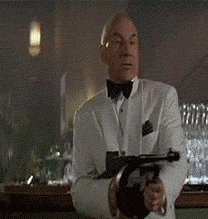 I just like the idea that somebody thought this up, and then spent hours making it.
Stay tuned for my next post when I discuss how great the Schwarzenegger classic
Total Recall
is.
"See you at the party Richter!"
- Will