Random Oddities and The Foibles of University Life
There is, sure, another flood toward, and these
couples are coming to the ark. Here comes a pair of
very strange beasts, which in all tongues are called fools.
And the crazy old man of the day award goes to this guy!
Liberal backbench MP Don Bell gets an earful from a constituent.
You tell him old fella! It's actually not crazy to tell it like it is.
Video courtesy of
Stephen Taylor
.
Not to be outdone, the runner-up for crazy old man of the day goes the dude pictured below.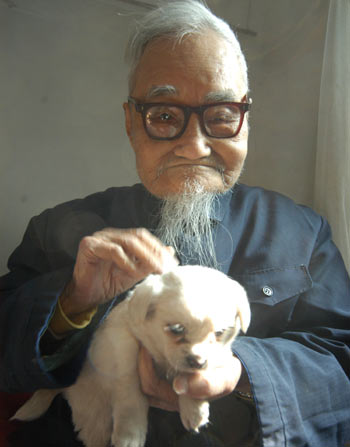 Old man refused to advertise for companies
Qian Daokang, a 105-year-old man, plays with his doggie at his home in Nanjing, east China's Jiangsu province December 7, 2005. Qiao Daokang refused to work as brand ambassador for seven companies that produce health products. He said his longevity was due to exercises rather than eating health products.
Come on China quit trying to commercialize the hyper-elderly! I think his right eye can see into your SOUL. Crazy though, just think this guy was an old man in the 1960's!
And since we're over in Asia anyways, how about we hop on over to the island of Japan.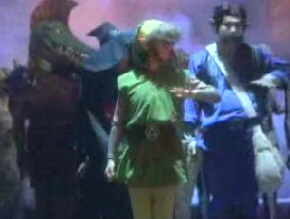 The year 1991. The Legend of Zelda : A Link To The Past has just arrived for the Super Famicom. In a move that will shock and appall people for years to come Nintendo unveils its Vanilla Ice inspired commercial for the game.
BEHOLD!
The 1990's were not kind to us.
Trinity and Beyond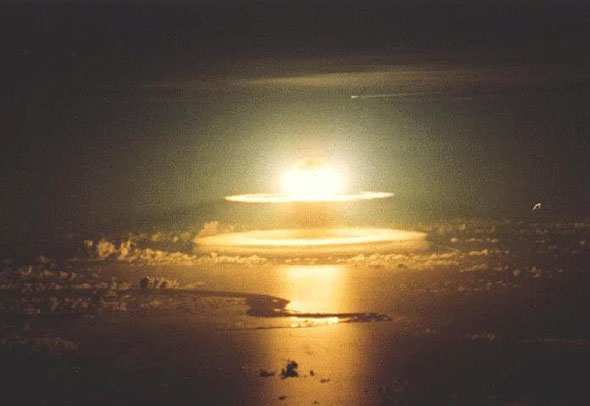 "Trinity and Beyond" is an unsettling yet visually fascinating documentary presenting the history of nuclear weapons development and testing between 1945 until 1963. Narrated by William Shatner and featuring an original score performed by the Moscow Symphony Orchestra, this award-winning documentary reveals previously unreleased and classified government footage depicting in graphic detail these powerful and awesome weapons.
If you get a chance to see this documentary, do so. I've seen it on TLC and TVO a few times. Truly frightening but awe-inspiring at the same time. And can you say no to William Shatner?! I mean come on!
Check out this
clip
of
'Tsar Bomba' -- The King of Bombs
. The largest nuclear weapon ever detonated... By none other than the Russians! Truly scary.
The
clip
is from the movie, but it's being showcased on another program.
More info
here
.

The Foibles of University Life
A few months ago, a fellow student of mine at the University of Toronto sent me an entertaining Onion article entitled "
Guy In Philosophy Class Needs To Shut The Fuck Up
". Anyone who has attended school(everyone) knows what kind of person this is. That pompous, know-it-all, prick who wastes the students and the professors time by showing just how knowledgeable he or she is. I have one of these charming individuals in my Political Science lecture. For about 10-20 minutes each class the always entertaining Professor Kopstein will field questions from his students. This one individual however, feels it necessary to not ask a question, but instead make statements about what he thinks. NO ONE GOD DAMN CARES WHAT YOU THINK ABOUT POST-COMMUNISM! If you'd like to talk to Kopstein, do it on your own time, NOT MINE!
On the subject of post-communism I move on to my next topic.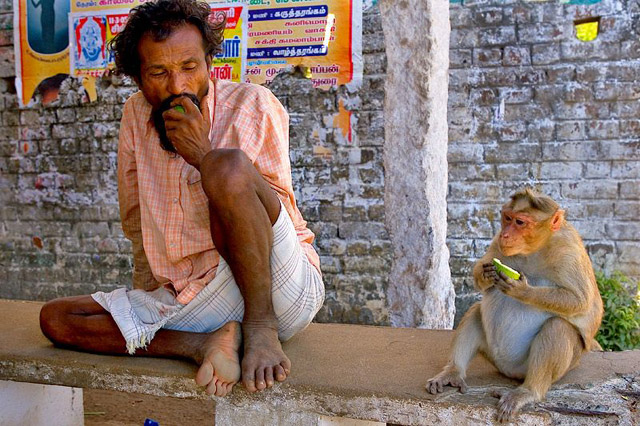 I know I have something in common with this man. We're both eating fruit, we're both comfortably lounging on this bench, and neither of us are wearing shoes. Life as a monkey is certainly good... But something makes us different, and I can't quite put my finger on it.
Excuse the odd analogy, but it will make sense soon. I'm in my second year at the U of T, and I have been enjoying the hell out of the experience thus far. When I look at my fellow students I see a hugely diverse group. People of every stripe, race, ethnicity, religion and political bearing. Yet we're all sitting on that university bench, eating the sweet fruit of knowledge and chilling with our shoes off. However, some of my peers at the university are an enigma to me.
Being accosted by Marxists and Trotskyites on campus, waving their Socialist Newspapers in my face is getting a little tiring. On campus clubs like
The Spartacus Youth Club
and
The Marxist Institute
can preach their Socialist beliefs all they want... Just leave me alone! If I bombarded them with Capitalist or Conservative leaflets they would probably tell me to fuck off as well.
Let us take a look at the mission statement of The Spartacus Youth Club.
The Spartacus Youth Club seeks to recruit, educate and train socialist youth to be life-long revolutionaries, to join the fight to achieve communism over the whole earth by class-struggle centred means that are at once proletarian, revolutionary and internationalist. If you want to do something about the racism and oppression endemic to this system, if you want to fight for a future of equality and decency, then struggle with us to send capitalism into the dustbin of history.
I'm all for an intellectual discussion of political ideologies, after all political science is my major. I've asked members of these clubs questions, asked them to defend their ideals and theories. I wanted to have an enlightened discussion with these people and instead had my ideals derided and mocked. I was being civilized, you Mr. Marxist are the one who jammed the pamphlet in my face... Defend YOUR views, don't attack mine! If you want me to take your paper, sell me on it!
One of the signs in the SYC booth at the Sidney Smith building read :
End the Support of Pro-Imperialist NDP!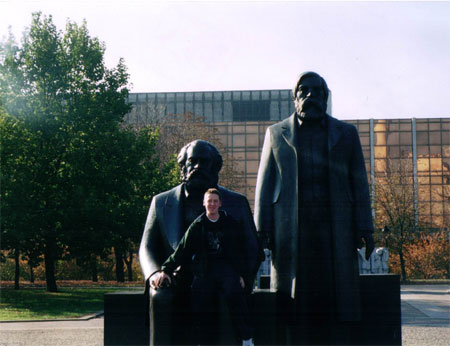 Marx, Engels and I chillin' on the East Side!
That quote represents a Leninist standpoint. Lenin believed that Socialist parties working within the confines of a Capitalist system were not truly Socialist. Therefore, the New Democratic Party operating within our parliamentary-Capitalist system is undercutting true Socialism.
Now I'm not a fancy, big city lawyer-type... *Puts thumbs under suspenders* ... But it seems to me that an organization calling other Socialist groups hypocrites for operating within the Capitalist system really shouldn't be trying to push these views at a Capitalist university. The modern university is key to free market Capitalism. Students are there to get their degree, so they in turn can find a job and make money! Presumably, this Spartacus Youth Club was started by a student at the university. Uh-oh! They're working within the bounds of the Capitalist System?!
Stop the Pro-Imperialist Spartacus Youth Club!
Come on now! If you truly were professional Marxist revolutionaries you'd have overthrown the University by now instead of hypocritically operating within the school's pro-Capitalist structure.
A few more points about the true Socialists on campus... How are you paying for school? Last time I checked my bank account, U of Toronto is very expensive! Also why does your club have a President? If you truly are Marxist-Leninist you should have a central committee... Come on now! If you're going to go ahead with this whole revolution thing don't be half-assed about it!
Haven't Russia, China and North Korea already proven that Communism, no matter how well intentioned will always fall victim to greediness of human nature? Not that I consider subverting human rights and killing millions of people well intentioned... I'm just pointing out that Capitalist countries tend to not kill millions of their own people. Just saying...
I'm a firm believer in Voltaire's mantra
"I may disagree with what you have to say, but I shall defend, to the death, your right to say it."
I just ask that you don't be a dick about what you're saying.
Call me when the revolution starts buddy!
- Will