The Rise of Leafs Nation
Now is the winter of our discontent
Made glorious summer by this son of York
All the clouds that were upon our house
In the deep bosom of ocean buried.
Now we our brows bound with victorious wreaths,
Our bruised arms hung for monuments,
Our stern alarums chang'd to merry meetings,
Our dreadful marches to delightful measures.
Grim-visag'd War hath smooth'd this wrinkled front;
And now, in stead of mounting barbed steeds
To fright the souls of fearful adversaries,
He capers nimbly in a chamber
To a lascivious lute.
Tonight is the night. The puck drops at 8, and the real hockey season begins. The Toronto Maple Leafs take on the Ottawa Senators in what is sure to be a great game.
The mood downtown today was electric. Probably about 1 in 5 people I saw were wearing some kind of Leafs gear, be it a jersey or a baseball hat people know what's happening tonight. I only own a Leafs touque, but the weather today was not conducive for touque wearing.
Instead I opened my top drawer and dusted off the old Blue and White. Down came the Canadian flag and up went the Toronto Maple Leafs flag... I do what I can.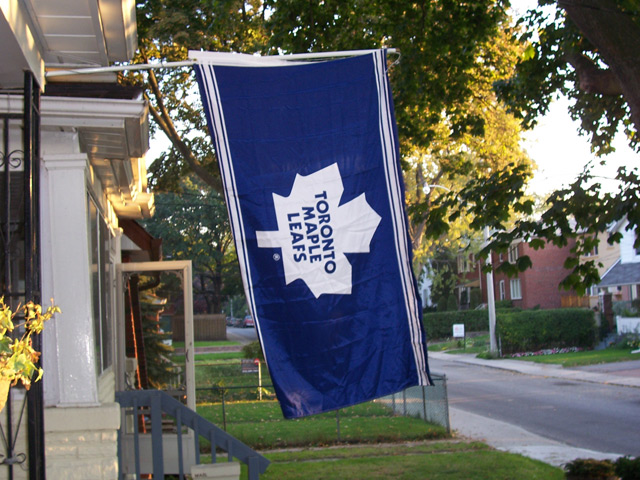 The Leafs are a team of IFs this season. If the team can stay healthy. If the players perform up to pre-lockout/pre-injury standards. If everything goes according to plan for once... The Maple Leafs have a good chance for the playoffs. All IFs. We'll see what happens.
For full coverage of the many NHL games played tonight, check out
TSN.ca
or just watch the game. I'm sure if you live in Toronto you'll be able to tell who won by the honking cars in the street.
I'm ready to beer it up a notch and root for the Buds!
- Will