Terrorist Product Placement and The Countdown.
Rightly to be great
Is not to stir without great argument,
But greatly to find quarrel in a straw
When honour's at the stake.
So I was watching 24 this week, like I usually do. Another fine episode, with a huge cliffhanger ending. Something was odd about this episode though, I noticed a few products conveniently placed throughout the episode. It seems that CTU uses Cisco Systems Technology, and wanted viewers to know that. In another odd instance of product placement, it seems that the terrorists and their nefarious leader Marwan are partial to using Alienware notebooks.
Now I may not be some marketing genius, but is a terrorist mastermind using your product to launch a nuclear missile against a US city really good advertising?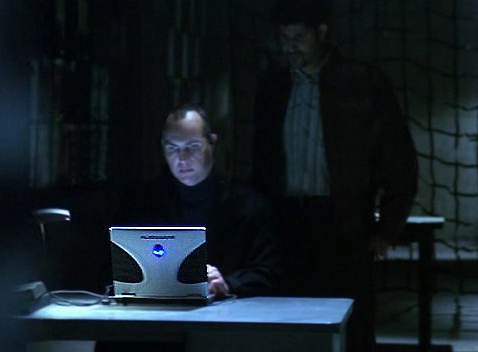 Marwan uses
Alienware
, Why don't you?
Look for future product placement in the last few episodes of 24. For example, Edgar Styles will constantly be eating Whoppers for the rest of the season, while wearing a Burger King crown. Tony Almeida will plummet back into a horrible cycle of alcoholism and will become a walking advertisement for Jack Daniels. At random intervals throughout each episode Jack Bauer will feel compelled to say "
We keep thinking about tough because we want you to drive a Ford.
", and will then proceed to drive off to kick some terrorist ass in a Ford.
I just can't shut up about this... Episode 3 is getting amazing reviews.
Rotten Tomatoes.com
. Just one week until the big day, then I start counting down to Batman Begins hehe.
A beer truck crashed on the 401 today. Oh the humanity of it! Here's the tragic scene caught on
video
.
I highly recommend you check out
The Lance Krall Show
on Spike TV. It is genuinely very funny, lots of toilet humour and subtle gags. Monday nights at 11:05 pm Eastern.
And now to Macbeth it up a notch.
- Will