QUOTE OF THE DAY
Do not seek to follow in the footsteps of the wise; Seek what they sought.
-Matsuo Basho
LINK OF THE DAY
Did you know that David Lynch was asked to direct Return of the Jedi?
SONG OF THE DAY :
DJ Shadow - dj shadow's theme
I'm back. Hopefully, on a more regular basis. I've been busy, same shit different day it would seem. I've been studying far too much... Which is good... It's a far cry from my high school days. Exams are in a few weeks and I will be ready damn it!
The internet is not helping though.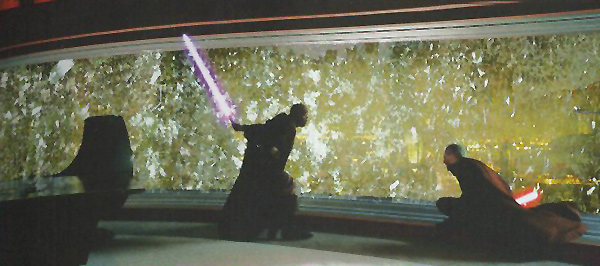 I've been a spoiler hog for Star Wars Episode 3. I told people I would go into the movie fresh, without reading or seeing anything... But I pretty much know everything that happens, seen every picture that has been released and have watched every bit of footage available. It's quite sad actually. But such is my closet obsession with Star Wars. If you enjoy spoilers hop on over to
Millenniumfalcon.com
and spoil yourself to your hearts content. For me May 19th can't get here soon enough.
Here are the two new TV spots released today.
Tragedy
and
Unleashed
.
Last month I did a lot of inter-Canuckistan travel. Montreal, Quebec City, Vancouver... Hamilton. Admittedly the last one isn't that far away, but I got the most drunk there... Well Quebec City was close. Good times on all fronts. Still waiting for my dad to send me the Vancouver pictures. Here are a few from the trip to Francophone land.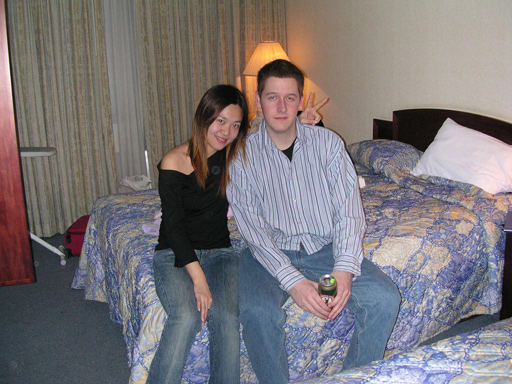 Johnny's friend Jane and myself in Montreal.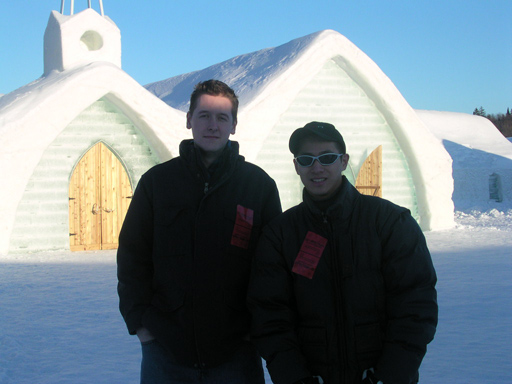 Johnny and myself outside of the Ice Hotel, that place was crazy.
See Sin City. That is all.
And now for something completely different.
REVIEW
Kontroll
9/10 STARS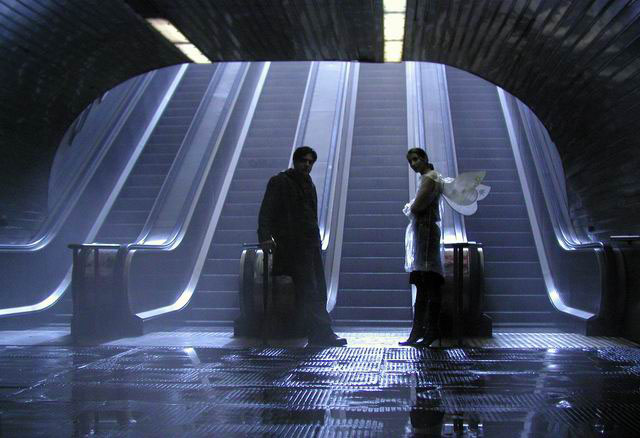 When one thinks of countries that produce good films, Hungary does not often come to mind. The surreal film Kontroll from first time director Nimrod Antal aims to change that perception. Kontroll centres on a rag-tag group of ticket inspectors (kontroll agents) who work under less than ideal conditions in the Budapest subway system. One of these inspectors, a downtrodden young man named Bulcsu (Sandor Csanyi) is homeless and spends 24 hours a day underground, living and working in the subway system. The job of kontroll agent is not an easy one, Bulcsu and his fellow inspectors have to put up with angry superiors, violent hooligans, clueless tourists and rival ticket inspection teams on a daily basis. Through a series of chance encounters, Bulcsu befriends a beautiful young woman Szofi (Eszter Balla), who for whatever reason always wears a giant bear suit while riding the subway. At night, Bulcsu wanders the tunnels and furthest depths of the underground, all the while he is plagued by an ever present shadowy figure, who may or may not be a figment of his imagination. The depression and confusion associated with working and living underground is beginning to take its toll on Bulcsu, he hasn't seen the light of day in months and begins to question the course his life has taken. Things take a turn for the worse after a series of deaths caused by a pusher, Bulcsu is the prime suspect. Immediately, Bulcsu begins to suspect that the shadowy figure who has been stalking him is behind the murders. Bulcsú now has a purpose in life, with the help of Szofi and his fellow kontroll agents he sets out to catch the shadow in the act, and in the process clear his name.
If only all first time directors could be as lucky as Nimrod Antal. Kontroll works so well, in so many ways. The story has a darker tone, but there is definitely a lot of laughs in this movie. The supporting cast is stellar, and work so well you'd swear they really were kontroll agents. As for the two lead characters Bulcsu and Szofi, Sandor Csanyi and Eszter Balla have an on screen chemistry that is very difficult to capture on film, but Antal gets it. Perhaps the strongest character in the film is the location. Shot on location in the Budapest subway system, the tunnels and stations have a life of their own. Antal seems to have found some of the most eerie and crazy underground locales ever put on film. The cinematography was amazing, it helped capture the dreary, vastness of the underground. Also, the soundtrack was very cool and it suits the tone of the film perfectly. One sequence of the film stood out in my mind, the rail run. Bulcsu and a rival inspector attempt to race one another on foot between two subway stations, this bit will have you on the edge of your seats.
My only real qualm with the film was that some of the more abstract elements were not explained as well as they could have been. Nimrod Antal said he did this on purpose to leave things open for interpretation, but sometimes I want a director to tell me what he's really trying to get at. Other than that some people may take issue with the fact that the movie is subtitled, but I don't think I would have liked the movie as much if the voices had been dubbed.
Kontroll is the kind of movie destined for cult status. The movie is dark, moody, serious and funny all at the same time. It is definitely not a movie for everybody. But if you're in the mood for something different this weekend check out Kontroll. You will be in store for a unique film experience, guaranteed.
- Will