QUOTE OF THE DAY :
"Watching George W. Bush speak is like watching a drunken man try to cross an icey street." -Paul Begala
SONG OF THE DAY :
Kool and the Gang - Summer Madness
LINK OF THE DAY :
Oh those hardcore Republicans...

Our remedies oft in ourselves do lie
Which we ascribe to heaven. The fated sky
Gives us free scope, only doth backward pull
Our slow designs when we ourselves are dull.
The blogging may stop but the world certainly does not.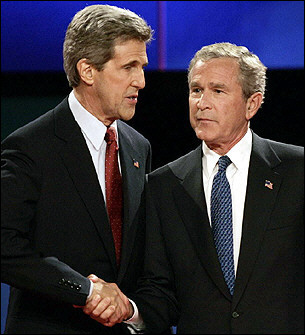 "I'm going to kill you... No wait changed my mind."
How about that debate? Kerry won and everyone knows that, but really... to what end? His victory will be meaningless if he doesn't win the election, it's a good step though.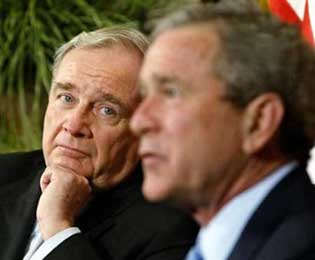 Paul Martin apparently loves George Bush.
Canadian Parliament resumes on Tuesday. Now let's see if shit can actually get done with a Liberal Minority. Enough politics though, onto the exciting stuff. VOLCANOES AND ROCKET SHIPS! YEEEE HAAAAAA!
As people are no doubt aware, our good friend Mount St. Helens in Washington State began rumbling late last week. Geologists are expecting a fairly sizable eruption. Nothing on the scale of the 1980 blast, which killed 57 people and blew half the mountain off. And since there is no visible threat to human life, I'd like to say I think this is damn cool. Go nature!
Spaceship One will, if all goes according to plan win the Ansari X Prize tomorrow morning. Funded by Microsoft's Paul Allen, built by legendary aerospace designer Burt Rutan and sponsored by Richard Branson of Virgin the Spaceship One project has already flown two successful manned missions to the edge of space. The first commercial enterprise to do so. If they do it again tomorrow, they will win the Ansari X Prize : $10 million dollars.
One of two Canadian teams, The da Vinci Project will most likely be the second successful team. This is the birth of the commercialization of space, could be good, could be bad. I'm definitely looking forward to the prospect of going into space in my lifetime.
- Will