QUOTE OF THE DAY :
"A man who won't die for something is not fit to live." -Martin Luther King, Jr.
SONG OF THE DAY :
Muse - Blackout
LINK OF THE DAY :
Young Liars
That which hath made them drunk hath made me bold,
What hath quenched them hath given me fire.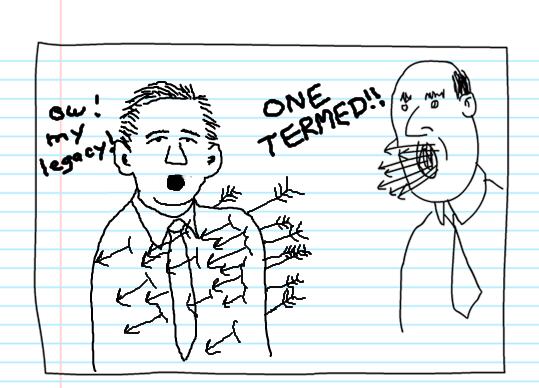 Why can't the "Children'd!" guy come out of the wood work and do that to Dubya. He'd be saving the world.
Happy Thanksgiving to my fellow Canadians. Unlike the U.S. our Thanksgiving is held at the correct time, and has not yet become a pre-Christmas corporate shill of a holiday. Bring on the Turkey!
My brother as usual gets his own personal Christmas this year. His birthday is October 11th, which means we always end up celebrating Thanksgiving and his b-day at the same time. Big Thanksgiving meal, cake and presents... Lucky bastard.
University is coming along well. Lots of work and reading, but I'm enjoying it. Go U of Toronto.
And I believe that is it for now. No more writing for the sake of writing.
- Will