QUOTE OF THE DAY :
"Do not dwell in the past, do not dream of the future, concentrate the mind on the present moment." - Buddha
SONG OF THE DAY :
The Stills - Gender Bombs
LINK OF THE DAY :
FAS.ORG
And oftentimes, to win us to our harm,
The instruments of darkness tell us truths,
Win us with honest trifles, to betray 's
In deepest consequence.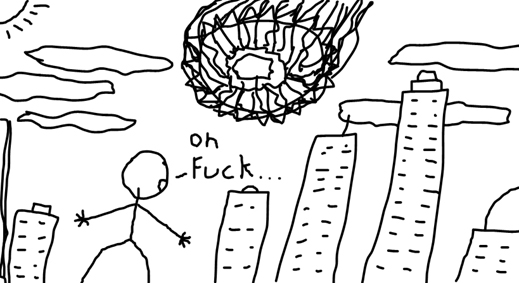 The end of the world : One man's perspective.
IT'S OVER!
Well the film festival is over for another year. Went to see a lot of great movies, and a few "unique" movies. Here's what I saw, in chronological order.
Ghost in the Shell 2 : Innocence
House of Flying Daggers
Calvaire
Kung Fu Hustle
OldBoy
Kontroll
The Brood
Saw
GITS 2, Calvaire, Kontroll and Saw were all Midnight Madness movies. While the content may be suspect, particularly in the case of Calvaire(Deliverance meets Misery in Belgium), the experience is always great. You're with hundreds of other hardcore movie fans, and you tend to meet some cool people.
House of Flying Daggers and Kung Fu Hustle were both Press Screenings. I had intended to go to another press screening... Zebraman to be exact, but it was too early and I missed it. You always see the same group of people at the press screenings, various internet, TV, radio and newspaper critics. Caught a glimpse of Roger Ebert before I went into Kung Fu Hustle, and met Danny Glover on my way out.
OldBoy was the only normal evening screening I went to. Awesome movie from South Korea, check it out if you can. Any attempt I make at explaining the plot would fail... I'm going to attempt to review it at some point.
Finally, David Cronenberg's The Brood. This 1979 cult horror movie, starring Oliver Reed and many familiar Canadian actors was something else. It was the first old school Cronenberg flick I'd seen. It was interesting to say the least. Actor/Director Don McKellar presented the movie and had lots of cool stuff to say about the movie and it's influences on him.
Now the Toronto Film Festival isn't all about movies... Well yes it is, but with all the films being shown there are quite a few celebrities in town.
Celebrities = Ritzy parties with open-bar's held nightly.
I went to one such party. The Premiere Magazine party. Open-bar, free Cuban Cigars, X-box's with flat screen monitors everywhere. How could you go wrong? Cuba Gooding Jr., Sigourney Weaver, Richard Roeper, Eric from That 70's Show (Topher Grace) and K-OS were there, to name a few. I met some of them, and a good time was had by all... As you can see in these
pictures.
Everyone was quite drunk.
Now I have to wait another year for the 2005 Film Festival. CURSE YOU TIME!!! *SHAKES FIST*
- Will