QUOTE OF THE DAY :
"Lies are the only ultimate Truth." - Ruddiger von Epplestinger
SONG OF THE DAY :
U.N.K.L.E. - Eye for an Eye
LINK OF THE DAY :
My DVD Collection
This royal throne of kings, this sceptred isle,
This earth of majesty, this seat of Mars,
This other Eden, demi-paradise,
This fortress built by Nature for herself
Against infection and the hand of war,
This happy breed of men, this little world,
This precious stone set in the silver sea,
Which serves it in the office of a wall
Or as a moat defensive to a house,
Against the envy of less happier lands,--
This blessed plot, this earth, this realm, this England.
Is Will ready for Europe?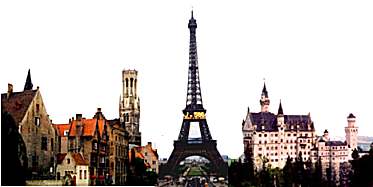 And is Europe ready for Will?
So my Uncle emailed me last night. The plan was to tag along with my Uncle on a business trip to Europe, and then I would just stay over there for about 2 months. The exact date of departure has been up in the air... But the email I received last night confirmed when I would be leaving.
One week from today. One week from today I will depart on a trip that will last two months. Talk about time to plan... This next week will be insanely busy for me. Organizing... Planning.... Packing... Chilling... Fretting... Anticipating. DAMN this is gonna be sweet!
I purchased my Eurorail Youth Flexi Pass today. It lets me travel anywhere in the EU for 15 days in a 2 month period. I am going to see as much as I can in that time frame.
I know I'm going to run out of money... But I can be thrifty when I need to be.
New people, New places... Good times. You have no idea how much I'm looking forward to this.
The plan is to update my blog from various web cafes while I'm over there. So check back to see my progress.
In the next week I have to : Get my Youth Hostel card, Outline where I want to go, Get a credit card, Make amends with my lady friend, Have a going away party with numerous people, And somehow grasp the fact that I'll be on my own for 2 months. As pathetic as that last one sounds I've never been away from family and friends for more than a month... Sue me.
Now if you'll excuse me all this talk has made me hungry.
*Takes a bite out of a lemon*
-Will