QUOTE OF THE DAY :
"Based on what you know about him in history books, what do you think Abraham Lincoln would be doing if he were alive today?
A) Writing his memoirs of the Civil War.
B) Advising the President.
C) Desperately clawing at the inside of his coffin."
- David Letterman
SONG OF THE DAY :
Sloan - Rest of My Life
LINK OF THE DAY :
All About Shakespeare
I will not yield,
To kiss the ground before young Malcolm's feet,
And to be baited with the rabble's curse.
Though Birnam wood be come to Dunsinane,
And thou opposed, being of no woman born,
Yet I will try the last. Before my body
I throw my warlike shield. Lay on, Macduff,
And damn'd be him that first cries, 'Hold, enough!'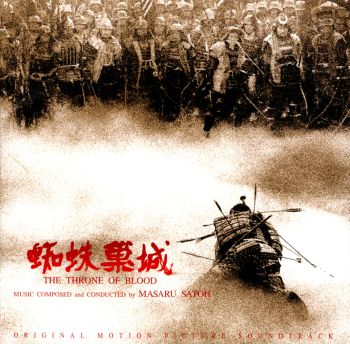 Akira Kurosawa's Throne of Blood
Saw this film for the first time tonight. Throne of Blood is Kurosawa's retelling of Shakespeare's Macbeth. I thought it was a great film. The direction was classic Kurosawa, and the cinematography was amazing. On top of that you had an incredibly disturbing performance by Toshiro Mifune as Washizu, the Macbeth character. It's by no means a feel good movie.
The end of the film is by far the most memorable part. His castle under siege, his sanity gone, and defeat soon at hand; Washizu's men turn against him brutally kill him with a hail of hundreds of arrows. He is determined to live and it takes an arrow through the neck to finally kill him. This scene was obviously the inspiration for the famous "SAY HELLO TO MY LITTLE FRIEND" scene at the end of Scarface.
Kurosawa was a very influential director. Francis Ford Coppola and George Lucas idolized him as film students and subsequently produced two of Kurosawa's later films. Sergio Leone's 'Fistful of Dollars' and the Clint Eastwood 'Man With no Name' character were based of Kurosawa's film 'Yojimbo', also starring Toshiro Mifune. The 'Seven Samurai' was also the basis for the famous western: 'The Magnificent Seven'.
He's a hell of a director and I highly recommend you check out his movies if you can. Among them I can personally recommend The Seven Samurai, Stray Dog, Ikiru, Yojimbo, Sanjuro, Ran, Kagemusha, Red Beard and of course Throne of Blood.
If you're more into action check out The Seven Samurai, Yojimbo, Sanjuro and Stray Dog. If you like Shakespeare, Ran and Throne of Blood are retellings of King Lear and Macbeth. The rest are dramas, and I recommend them as well.
Yes I am a Kurosawa fanboy, but if you haven't seen any of his stuff... you really should.
Anyways,
I'm a frequent poster on
Fark.com
. Like most online communities we have our share of cliches and inside jokes, Like Admiral "IT'S A TRAP!" Ackbar, Mustard Guy, and the squirrell with the huge nuts.
Take the "Which FARK Cliche Are You" quiz!
Catch you on the flip side !
-Will